They say it takes a village to raise a child, but little do people talk about how it takes a village to raise a festival. Celebrating its 16th edition in June, Colorado's Sonic Bloom exemplifies this tenet.
Making its return to Hummingbird Ranch in Colorado's Spanish Peaks Country every summer on the solstice weekend, Sonic Bloom has remained a key event for the true individual music fan. The fest fosters community, encouraging attendees to explore their human potential while experiencing the next wave of art and diverse music spanning across the worlds of electronic, jam and bluegrass.
This year, Sonic Bloom will host its biggest lineup yet with CloZee, Lotus, Dirtwire, SunSquabi, Alix Perez, INZO, Maddy O'Neal, Rome In Silver, Nala and dozens more throughout the weekend. However, the amount of talent that has graced the event's stages throughout its decade and a half of programming is remarkable.
Let's go back through the years and recollect some of Sonic Bloom's most iconic sets.
10. Rebel Alliance Orchestra – 2007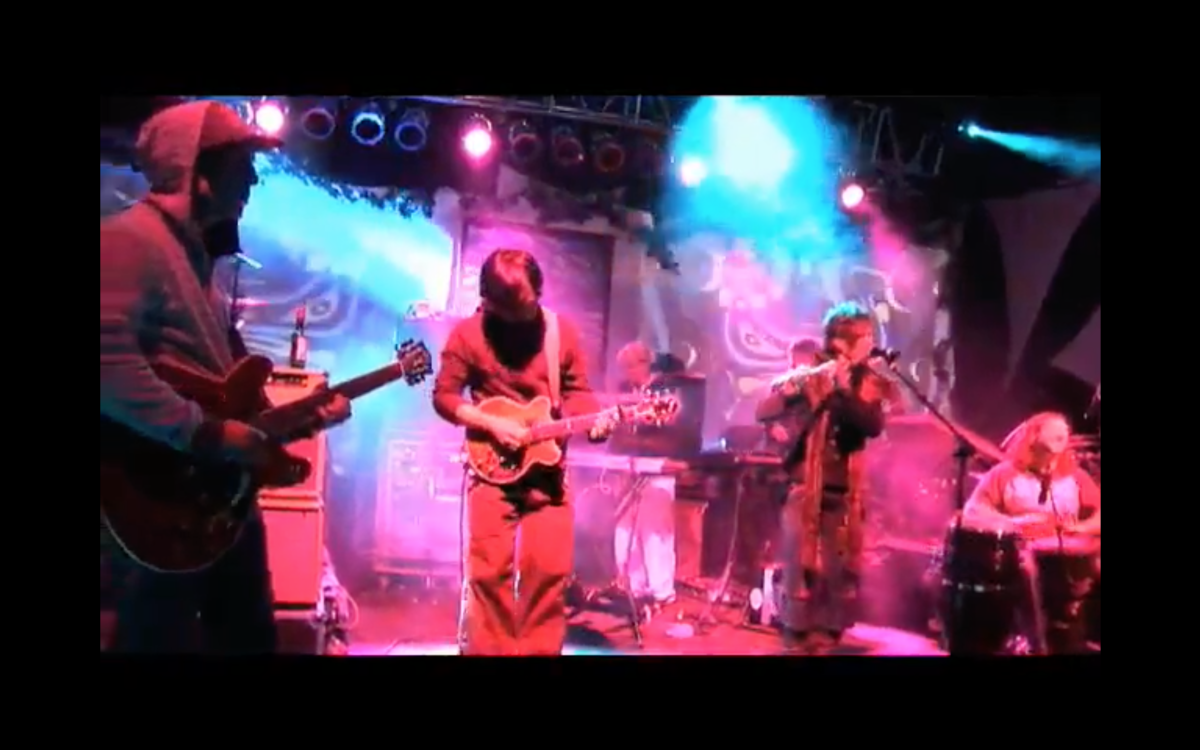 Conscious Alliance
For its second year, Sonic Bloom had its first late-night super jam with a plethora of artists, including Michael Travis, Dave Watts, Ryan Jalbert, Michael Kang, Aaron Holstein, Garrett Sayers, Jason Hann, Kyle Hollingsworth, Adam Ravell and Sasha Butterfly. The result was an insane deep and exotic late-night performance that spanned live orchestratal electronica and shattering bass  amongst Colorado's Red Feathered Lakes. Watch the last 15 minutes of the set here.
9. Tipper – 2009
Attendees were in for a real treat when it came to Sonic Bloom's fourth event at Bellvue's famed Mishawaka Amphitheatre, whereTipper made his first of many appearances throughout the years for a momentous debut performance. Set among the mile-high mountains and canopying pine trees, the wobbly bass and out-of-this-world production would go down as one of the Sonic Bloom's most iconic sets.
8. Eprom – 2010
Before Eprom became a household name within the electronic music scene, he was billed on the fifth row of the fifth Sonic Bloom lineup poster. It would be playing at these independent and boutique music festivals that would set him up to become one of the scene's most imaginative and gifted producers. 
7. Pantyraid – 2012 
Six years in, Sonic Bloom found a home at Georgetown's Shadows Ranch and the programming was completely getting revamped. Next to Tipper's two headlining sets was also Pantyraid, who flooded the festival grounds with a glitchy concoction of hip-hop and experimental electronic sounds that would go down in Sonic Bloom history. It would also be the duo's only performance appearance at the festival throughout its history.
6. EOTO – 2014
While EOTO had graced Sonic Bloom's stages years earlier, it would be their 2014 set that would stun attendees into the intergalactic depths of their minds. Performing a headlining set on a projection-mapped Lotus stage, EOTO would go on to lay down some filthy bass lines, swirling synths, and rhythm-backed percussion into their fully improvised performance.
Scroll to ContinueRecommended Articles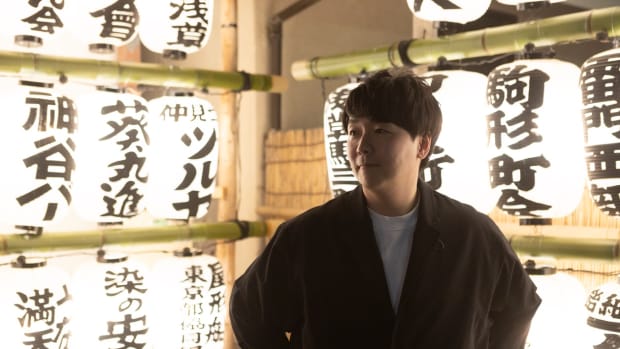 MUSIC RELEASESShingo Nakamura Creates a Sublime "Foggy Morning" Soundscape: Listen
Out now by way of Monstercat Silk, "Foggy Morning" instills a dreamlike state.
By Carlie BelbinMar 22, 2023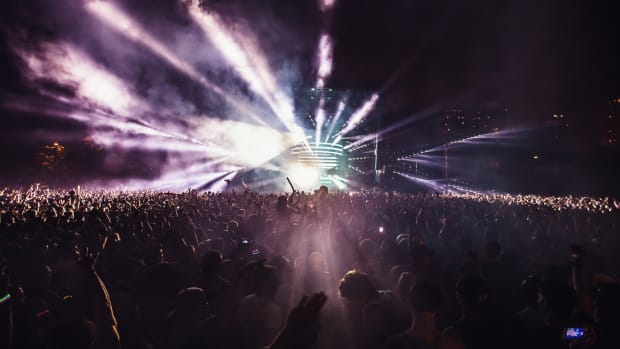 EVENTSODESZA, Subtronics, Fred again.. and More Featured On Lollapalooza 2023 Lineup
Kendrick Lamar, Billie Eilish, Red Hot Chili Peppers, Lana Del Rey and more are set to headline the iconic Chicago festival in 2023.
By Nick YopkoMar 22, 2023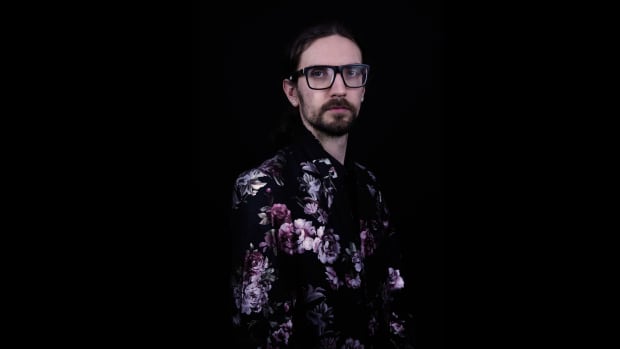 INTERVIEWS"Use Your Ears, Not Your Eyes": How Aether Creates Stunning Music as a Visually Impaired Producer
We caught up with Aether to discuss his latest EP" "Moonstone" and his creative process when navigating Retinitis Pigmentosa, a rare eye condition.
By Konstantinos KarakolisMar 22, 20235. Shpongle – 2015
Finally finding its long-time home at Hummingbird Ranch, Sonic Bloom would also welcome long-time artist Shpongle to deliver what would be an insane live set. Accompanying Simon Posford onstage during the Saturday night headlining performance would be Ariana and Sarah of Fractal Tribe performing a duet aerial piece, adding to the otherworldly glitchy production surging throughout the festival.
4. FKJ – 2016
Amid the 60+ electronic and jam performances of the weekend – including some insane sets by The Opiuo Band, Michal Menert & The Pretty Fantastics, and Justin Martin – stood FKJ. Whether or not he was out of place on the lineup, FKJ delivered a breathtaking nighttime performance, transitioning through his funky live looping and soulful multi-instrumental blend of jazz and experimental production.
3. Gigantic Cheese Biscuits – 2017
As the name implies, this was one of Sonic Bloom's biggest and most iconic collaborative sets in festival history. Featuring members of Big Gigantic, String Cheese Incident, and The Disco Biscuits, this headlining set would oversee a monumental wave of warped bass, frenzied jamtronica and a top-notch light show to go along with it all.
2. CharlestheFirst – 2018
Gone but not forgotten, the late CharlestheFirst was able to grace the Sonic Bloom stage right as he was starting to peak in his career within the experimental bass scene. The young producer was billed a mid-tier artist, but quickly made both organizers and attendees remember his name as he played through his organic beats with deep electronic and psychedelic compositions. 
1. Lab Group – 2022
While the festival had to take an unexpected three-year hiatus amid the global pandemic, 2022 saw it blossom into its biggest and brightest production yet. With over 80 artists booked throughout the weekend, it was hard to not see every set as a piece of history for the revival of live music.
While last year saw incredible sets by Tipper, Lettuce, Of The Trees, Daily Bread, A Hundred Drums, Wreckno and more, Lab Group's headlining set would become one of the most monumental of Sonic Bloom's existence. Without its third founding member CharlestheFirst, Potions and Supertask paved the way for the group to take on such an inspiring time for live music to renew again.
Passes for this year's Sonic Bloom are now on sale here. A donation from each ticket will also benefit the Walsenburg, CO food bank Dorcas Circle, providing food and clothing to those in need in Huerfano County.
Sonic Bloom will also plant a tree for each ticket sold along with a donation to Conscious Alliance, a Colorado-based food bank that the festival has supported since year one.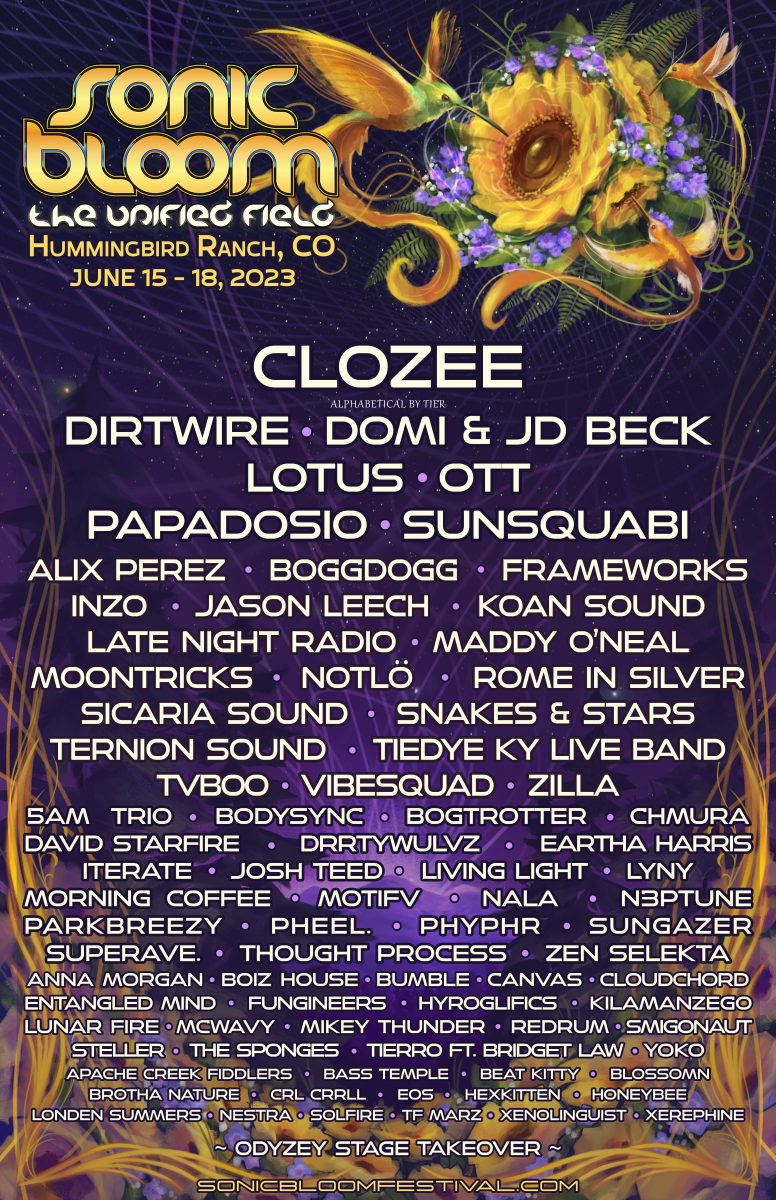 Sonic Bloom
FOLLOW SONIC BLOOM:
Facebook: facebook.com/sonicbloom
Instagram: instagram.com/sonic_bloom_
Twitter: twitter.com/sonic_bloom
YouTube: youtube.com/user/sonicbloomfestival
Tagsterms:EDM FestivalsSonic Bloom

By Mikala LugenFollow mikalalugen
Sign up for our