Get ready to "seas" the new year. 
In January Destructo and friends will once again hit the deck for Friendship, the beloved floating festival. And according to the renowned music executive, promoter, DJ and festival founder, whose real name is Gary Richards, this year's ship is twice the size of the vessel they had last year—giving big deck energy.
Friendship 2024 will set sail out of Miami on January 6th, taking the sea-nic route around Cuba to Belize for a 24-hour private island party before docking back in Florida on the 11th.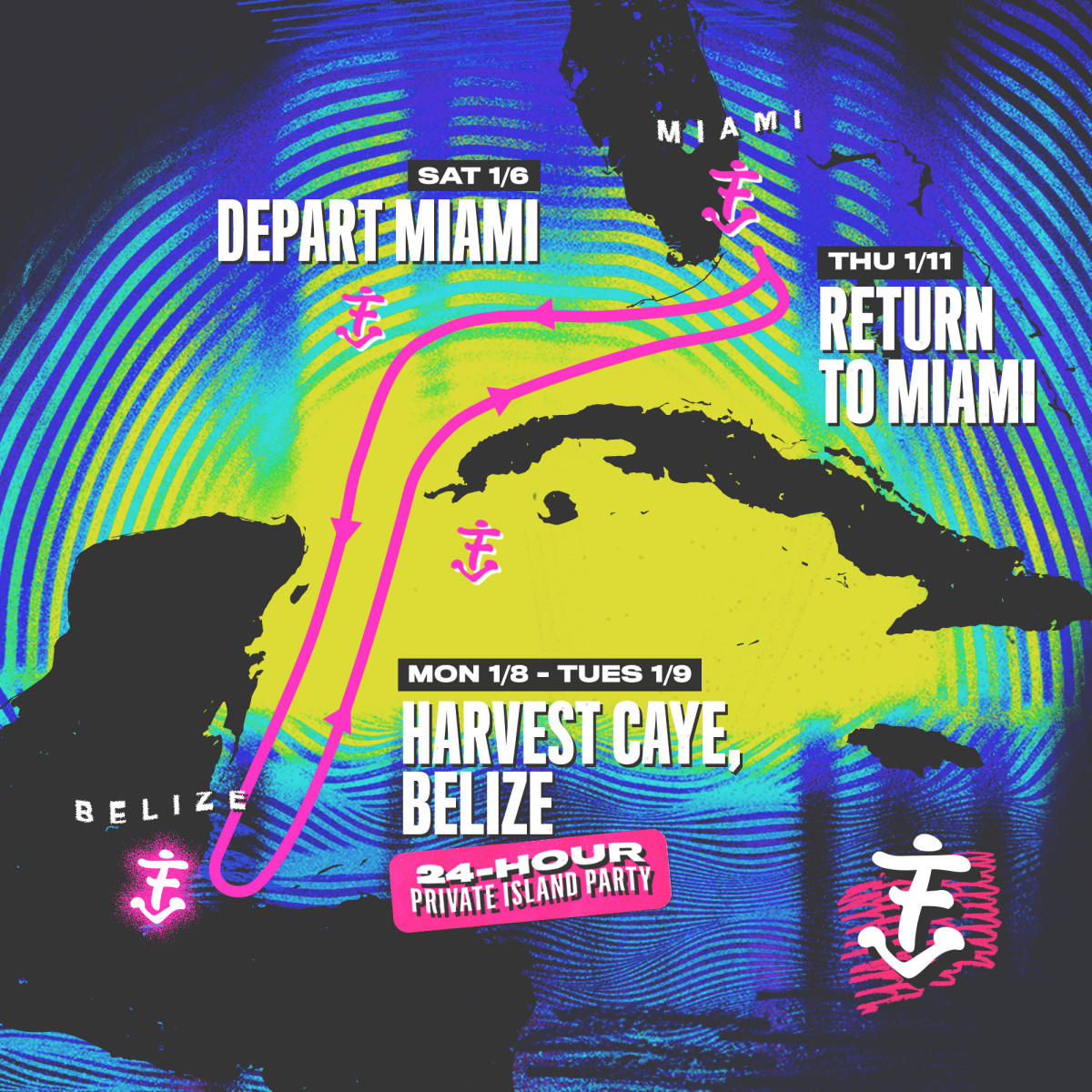 c/o Press
With meticulously curated programming throughout the five days, Friendship 2024 will feature headlining performances from the likes of Bob Moses, Boys Noize, Chris Lake, Chris Lorenzo, Dr. Fresch, Mr. Carmack and Rusko, among others. Meanwhile, electronic music icon Skrillex been confirmed to perform an "exclusive" set on Belize's Harvest Caye.
"Just think of a 24-hour beach party with 4,000 of your best friends and Skrillex," Richards tells EDM.com.
Ahead of this year's festival, we caught up with Richards to chat a-boat what makes a cruise ship the quintessential setting for a festival as well as Friendship's one-of-a-kind programming and what to expect on the hotly anticipated island overnighter.
EDM.com: Following your efforts with Holy Ship! you pivoted in your career, but you continued to pursue your passion of curating a floating festival. For someone who has never been on a cruise, what makes a ship the quintessential setting for a party?
Gary Richards: It really is the perfect place for a mini festival. When you go to Shambhala, you go to Coachella, you go to these festivals they're amazing but you know there's no running water, there's no restaurants, there's nowhere to go to the bathroom, it's kind of dirty. That's fun and all but being able to have all of those amenities attached to the party is just great.
You could be on the dance floor at like three o'clock in the morning and then if you want to go back to your room and take a shower and change your clothes you can do that instantly. If you're hungry, there's food, there's 20 restaurants, things are happening 24 hours a day. It really is the perfect place to have a mini festival and everything is within walking distance. 
You know, the ship is pretty large and so you'll be putting on miles for the five nights, but everything is in range. You don't have to drive anywhere. I've been a festival promoter for most of my life and pretty much all of the logistics of what makes a festival miserable are taken out of the way.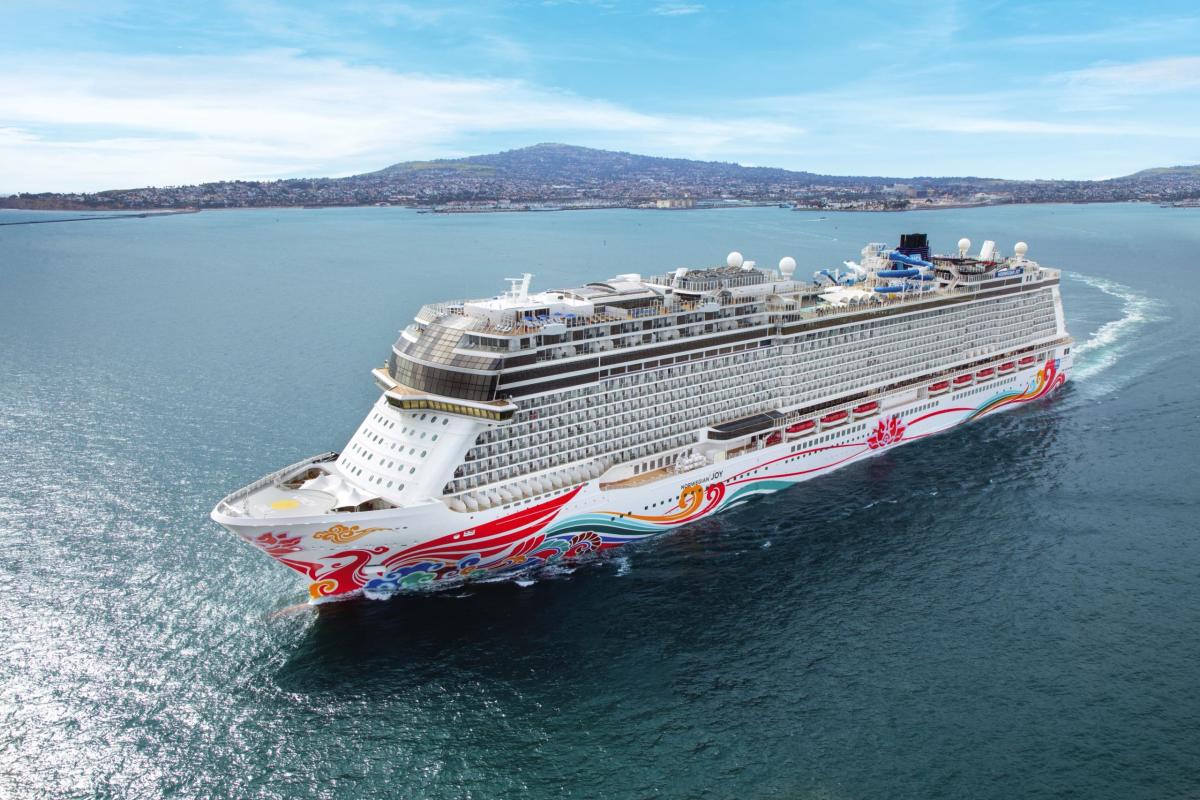 c/o Press
And then you're on this amazing $500 million cruise ship that we are so fortunate that they let us even take it over. I get to take over the whole thing… When you're walking down the hallway, the music that you hear, I programmed it. When you turn on the tv in your room, I programmed it. Everything in there, I get to program for five days. 
It's pretty wild that they allow that and we know how to do it pretty well. 
EDM.com: Friendship embarked on its maiden voyage in 2018, selling out in just two days. What sets this floating festival apart from the others?
Gary Richards: Well, for one, we are on this new ship called the Joy. The Joy is definitely the biggest ship that I've ever produced. It has the most amenities. It has a go-kart track on the top, it's got waterslides—I mean most of them have waterslides. When I went on it, I was scared to even go on it because one of the slides goes over the side of the ship like a loop and it has a door on the side because sometimes people get stuck.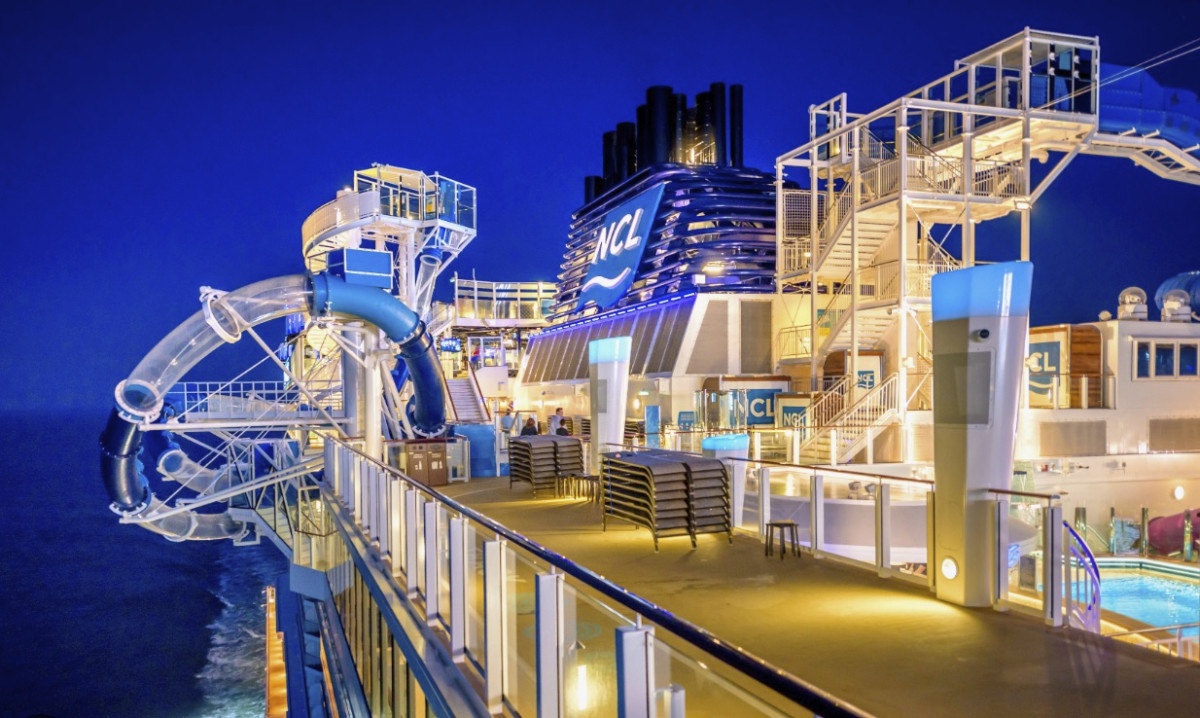 c/o Press
But the thing that makes this Friendship the best of all the ships that I've ever done, or at least what I've conjured up in my mind is when I went on a cruise in 1997, from Miami to the Bahamas and there were like 400 techno people from Germany. I don't know how I got on there, it was sponsored by Camel cigarettes, and we went to this island and they let us stay on the island overnight. In my mind, I was always like, "If I could ever recreate this vibe I would."
And so in all of the years that I've been doing it, we go to islands and we get the island to ourselves and we can have a party there, but you always have to leave at 4 p.m. because you can't really shuffle people back and forth in the dark on an island with the boat, it's just a safety issue.
So this island that we're going to in Belize, it has a dock and has lights and we're allowed to park there overnight. So when we get to Harvest Caye, Belize, we pull in at like 9 a.m. and we are allowed to stay till 9 a.m. the next day. So we have a sunset and a sunrise on the island. The lineup on the island is Chris Lake, Skrillex, Bob Moses, Justin Martin, me–I'm going to do the sunrise. It's the first time I get to have a night party into the day on the island. I think it is going to be the thing that everybody's like, "Holy shit, that just took it up 10 notches."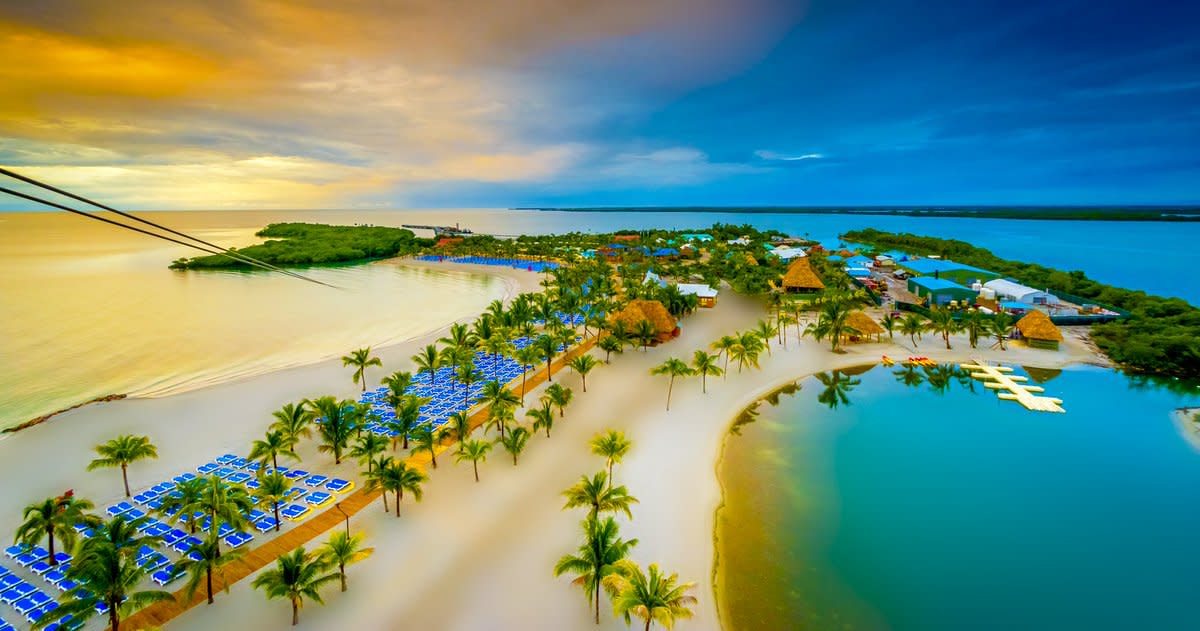 c/o Press
EDM.com: That is definitely unheard of. Are people still sleeping on the ship?
Gary Richards: Yep. You can just go back to the ship if you want to eat or shower and then come back. It's a little bit of a walk from where the boat is docked to where the stages will be on the island, but not too far. Think of the ship as like a floating hotel.
EDM.com: Will there be anything happening on the ship during the island party?
Gary Richards: No, there will not be any music on the ship that day. 
I've thought about it long and hard and I really want everybody to be in the one section on the island. I'm going to have two sound systems, but I'm only going to have one DJ playing [at a time] throughout the whole island. I'm not going to break it up into different things so when you walk around, everyone is hearing the same thing the whole time. 
EDM.com: Can you tell us a bit more about what you have in store for this island party? Paint us a picture.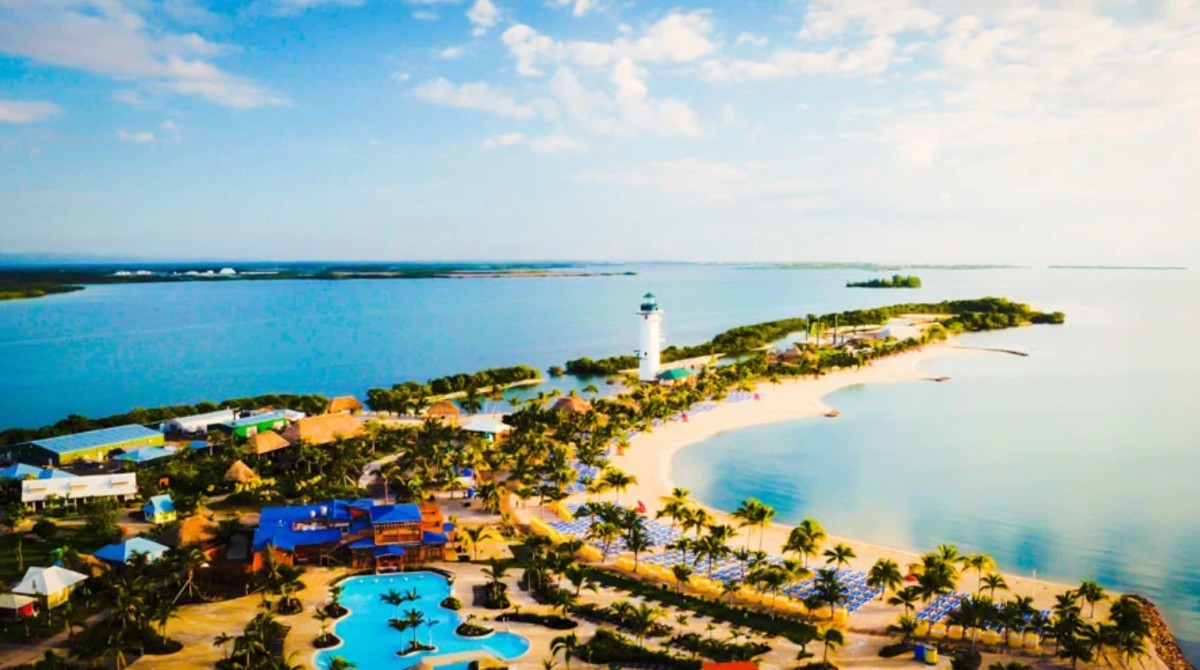 c/o Press
Gary Richards: There's a lighthouse there. The stage is going to be next to the lighthouse, and I am working on a build of these portals to denounce the dancefloor area. When you get off the ship, we are going to have music around the pool at first. The pool is huge! And then set up the stage in the back and then move people to the back.
There's private villas on the island, plenty of food, but mostly just think of a 24-hour beach party with 4,000 of your best friends and Skrillex.
DJ Soup–he builds the Pagoda [at Shambhala], that's his stage–is going to help me with some of the production on this island. You know how the Pagoda has the visuals? So we are going to do that on the lighthouse–because it's huge and it's white.
EDM.com: After last year's "surprise lineup," this time around attendees have over five months to familiarize themselves with the artists. While many of the names are well-known, there are some up-and-comers. Are there any must-see standouts? 
Gary Richards: Yeah! There's a lot of them. Right now I'm on this Afro-house tip, so from Africa we've got Vigro Deep, Sun-El Musician, Enoo Napa and Da Capo. I'm really hyped on those four.
Patrick Mason is definitely one that you have to check out. I saw him on Instagram and he must be a professional dancer. He has the best moves of anyone I've ever seen in my life–like DJing–he is wild. I couldn't even try to emulate it. He is from Berlin, or he plays in Berlin all of the time, so I asked Boys Noize, "Who is this Patrick Mason guy?" And he was like, "Oh, if you can get him, get him." I was just watching him play in videos and now people are starting to see so I am really excited. 
VTSS is another one. It's cool that Boys Noize, Alex, is one of my true friends and he always throws me like, "You gotta get this, you gotta get that…" He lives in Portugal, and so he has a different perspective on music than the typical American EDM people. There's this whole sound in Europe that's different and so I gave him his own area. So VTS is part of that, Patrick Mason, Raven, also Safety Trance.
Then, in the bass world, I am really hyped on Nitepunk, G-REX, Mersiv. That's not really my sound–I love that music, I don't DJ it–so when people suggest things, I've really been listening to their music. I think they're coming up like new fire in that world.
Scroll to ContinueRecommended Articles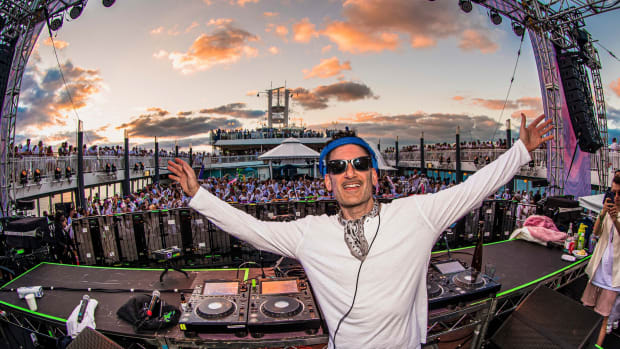 INTERVIEWSDestructo on the Journey to His Biggest Floating Festival Yet, Friendship 2024
"And of all the years that I've done them, I've never had a ship like this one."
By Carlie BelbinOct 23, 2023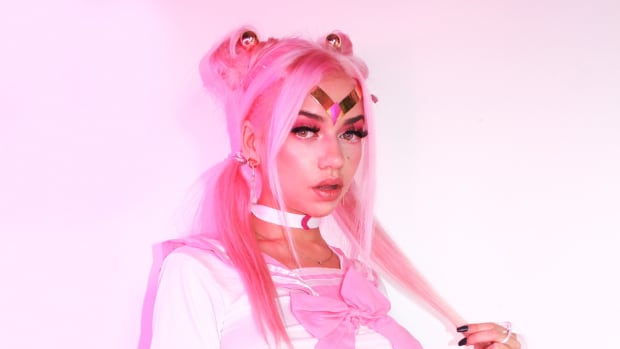 EVENTSDJs in Disguise: 6 Escape Halloween Festival Artists Share Their Favorite Costumes
We caught up with Mariana BO, JVNA and more.
By Ulises VargasOct 23, 2023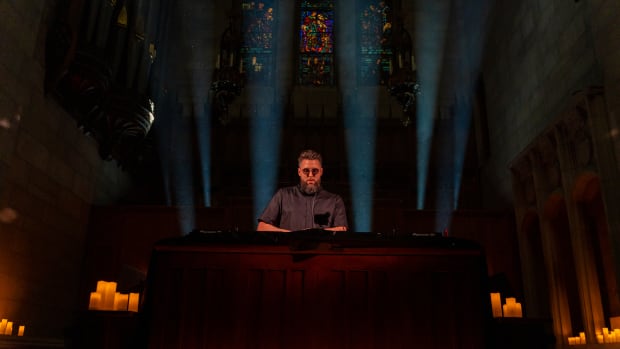 MUSIC RELEASES"Discothèque Records Vol. 3" Showcases Tchami's Vision for the Future of Confession
The 11-track compilation features new music by Confession favorites Aazar and Kage, among others.
By Brooke BiermanOct 23, 2023
Nala is pretty cool. We also have Sin & Brook, they're from New Zealand. I try to get people from all around the world. I think that a lot of times people just go, "Alright well we gotta book a festival so let's just get the names that are going to sell the tickets." But I am trying to give people a five-day holiday with interesting, unique vibes, not just the same shit that you're seeing all of the time.
We have Todd Edwards too. He's made a lot of records with Daft Punk. He has been DJing for about as long as me, so he's a legend.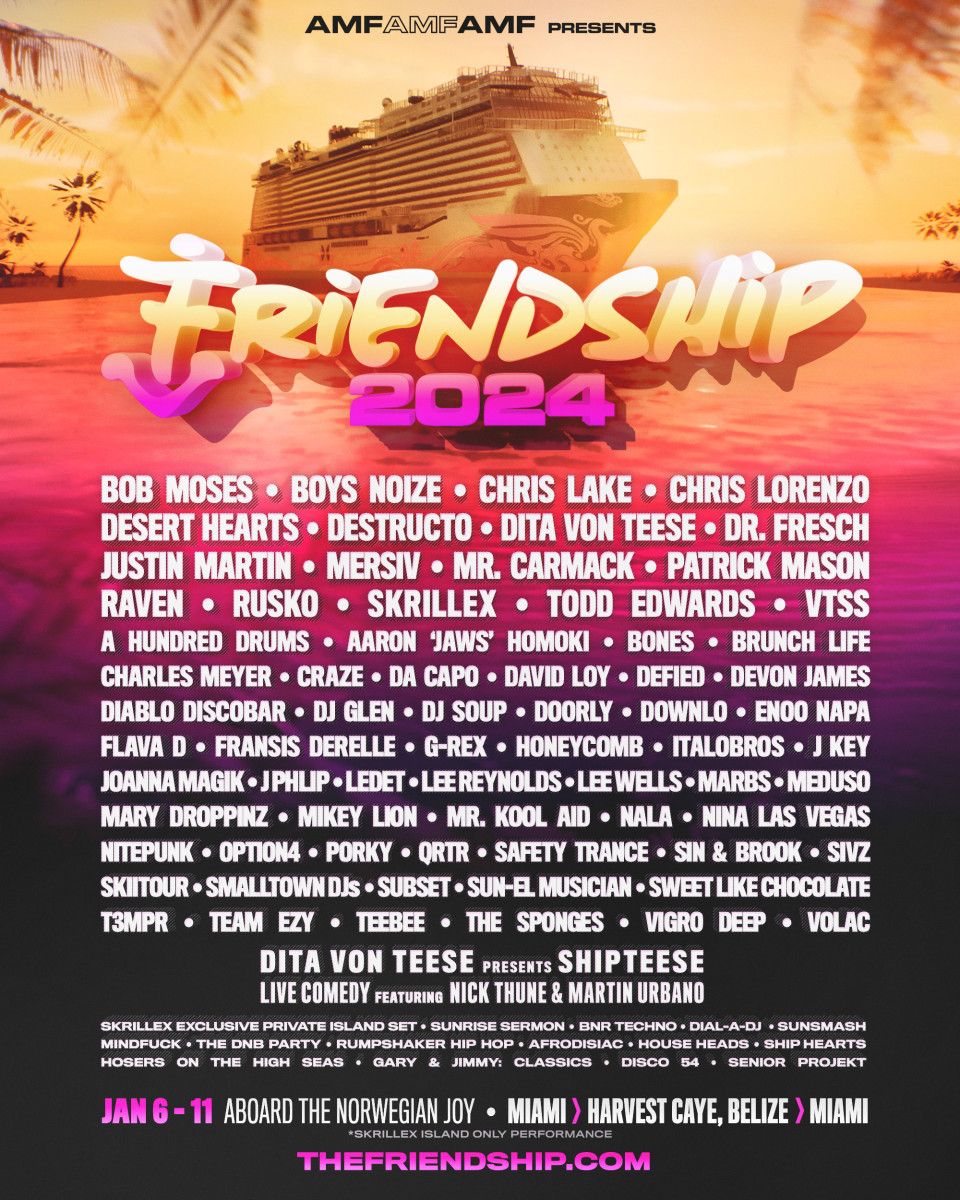 c/o Press
EDM.com: Do the headliners and performers stay throughout the duration of the cruise?
Gary Richards: Yes. That's kind of my stipulation. I let Skrillex slide because he didn't want to stay the whole time. But everyone else, I feel like if you don't want to stay the whole time, it's probably not for you. Because that's what really makes it. The fans want to hangout with the artists.
I give the best rooms on the ship to the artists and I try to give the artists the time of their life as well… I've had a lot of artists meet each other. You know the singer for RÜFÜS DU SOL? He met his wife on one of my ships. On the last ship, David Loy who is a professional skater, he started going out with Raven.
I want everyone to stay. That's what makes it way more special. 
I'm just trying to create that community, that togetherness… When we sail away, I tell everybody that this is that one event where if someone's DJing, crash their set. We are not playing Ultra and there's 100,000 people here, if you feel like you want to rip someone's USB out and put yours in, do it! Make it fun.
This is the one place where you can just be goofy and no ones going to care. They're going to like it more. I think I kind of helped set the tone. I don't try to take it so seriously, let everyone just have fun. If someone from the audience wants to come up, jump in!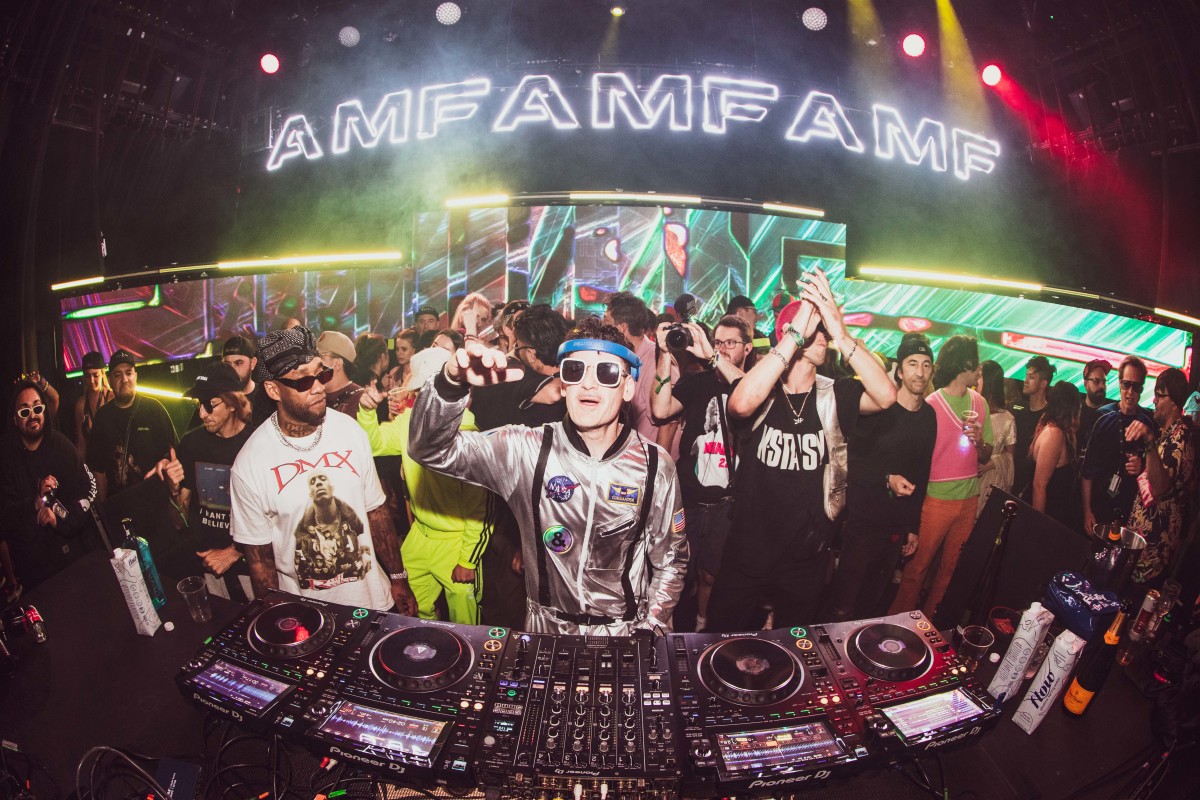 Jason Fenmore/Oh Dag Yo
EDM.com: With that in mind, and several iterations under your belt, can you share a few core memories that you have made while on board Friendship?
Gary Richards: There's just so many.
On the last one, we had a theme night that was 90s club kids and I played a set of all music from 1991. And when I played that Boys Noize and Dita Von Teese were there and Mr. Kool Aid–who I did parties with in the 90s–and Ty Dolla $ign and that set was really special to me to be playing the records that I first heard when I got into this music.
I mean, definitely on the first Friendship having RÜFÜS DU SOL. That was kind of like the last hurrah before they got massive. They were on a tour and I remember they said that they wanted to be the headliner and they wanted like 20 cabins as they were going to end their tour on the ship and have a big party. And I was like, "Yeah, of course." 
Then they released the "No Place" song. I booked them and like a month later the song came out and I was like, "You gotta be kidding me," because the song and the lyrics are perfect for the ship: "There's no place I'd rather be." That kind of became like a theme of the ship. 
EDM.com: Can you tell us more about Dial-A-DJ?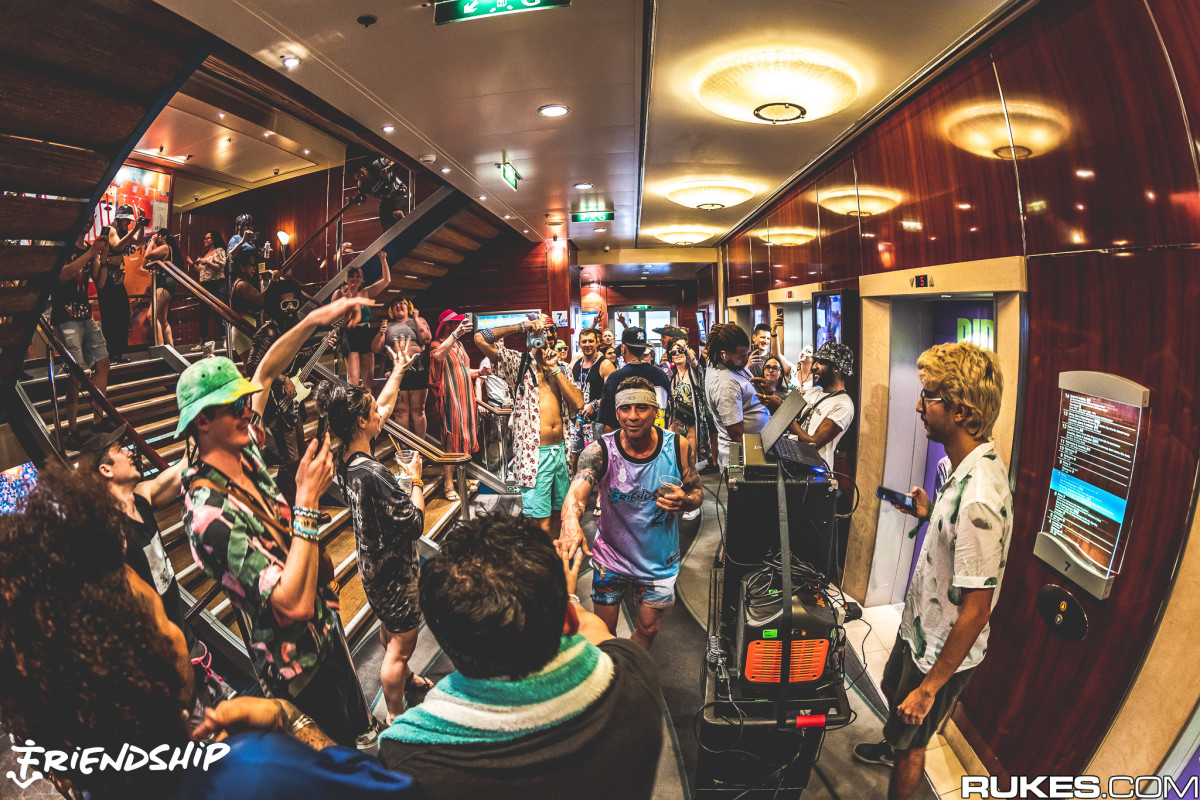 Drew Ressler/Rukes
Gary Richards: Dial-A-DJ is this crazy concept that we came up with that's kind of like room service, but for a DJ. I handed out these random cards to people and one of my bookers has like a ship phone and if you call the number you can order a DJ to your room.
We started sending Boys Noize and Bob Moses and Busy P and all of the sudden we have these headliners going to peoples rooms and DJing. People were like losing their minds. It was really cool. It gets kind of crowded though in peoples rooms and so we had to move to the hallways. We have these carts that move around so we can play in the elevators and we can move around and have mobile parties at all times. 
EDM.com: With the Friendship Pro Skate Team, Live Comedy and Shipteese presented by the "Queen of Friendship" Dita Von Teese, it is clear that this is no ordinary festival. Can you tell us more about these alternative performance offerings?
Gary Richards: Dita–she's Shipteese–and I have been friends since we were like 18. She loves going on cruises and she's been a part of it like every time, even back on Holy Ship!. Each cruise ship has a theatre and I wanted to use it as a real theatre instead of another club.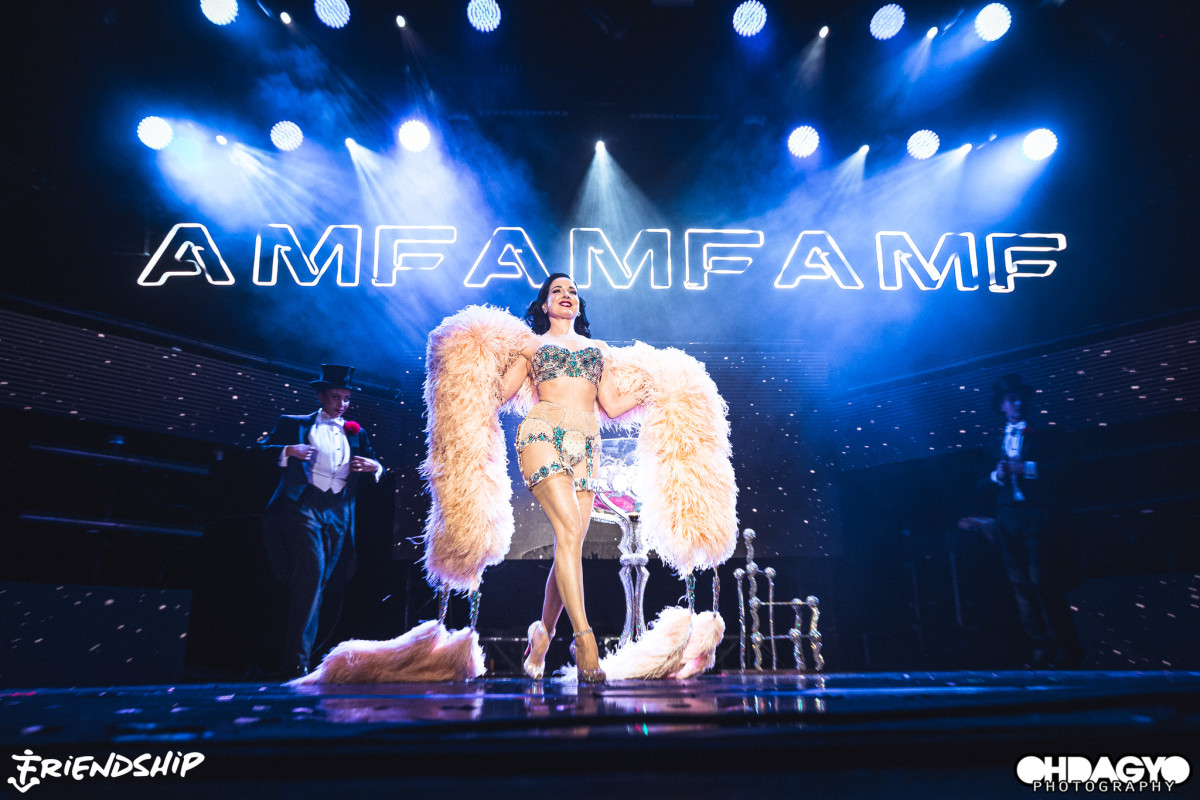 Jason Fenmore/Oh Dag Yo
What goes on in the theatre? There's a show: Magic, burlesque, comedy.
So that's how it started. It's hard for me because I love comedy, but I don't understand how comedians get booked and then they think "okay it's five nights" and then they want to get paid. The DJs understand, but comedians don't really know who I am. They're just like "oh, that's the rave cruise." I try to book people that are going to enjoy the event. 
I don't want anybody sitting in their cabin. So for the comedians I am like "do you like to dance? Can you do a comedy routine where you make fun of us?" It has to relate to the event somehow. I can't just throw a bunch of random people into the ship.
The skateboarders, I skateboard. I built a little ramp in my backyard and my son and I–he's 15– we skate together. And he told me one day "hey dad, I think this guy David Lloyd listens to your music." and I was like "what do you mean?" And then I looked at his Instagram and he was posting some of my music and my friends' music. We met up at the skate park and I asked him if he wanted to come and skate.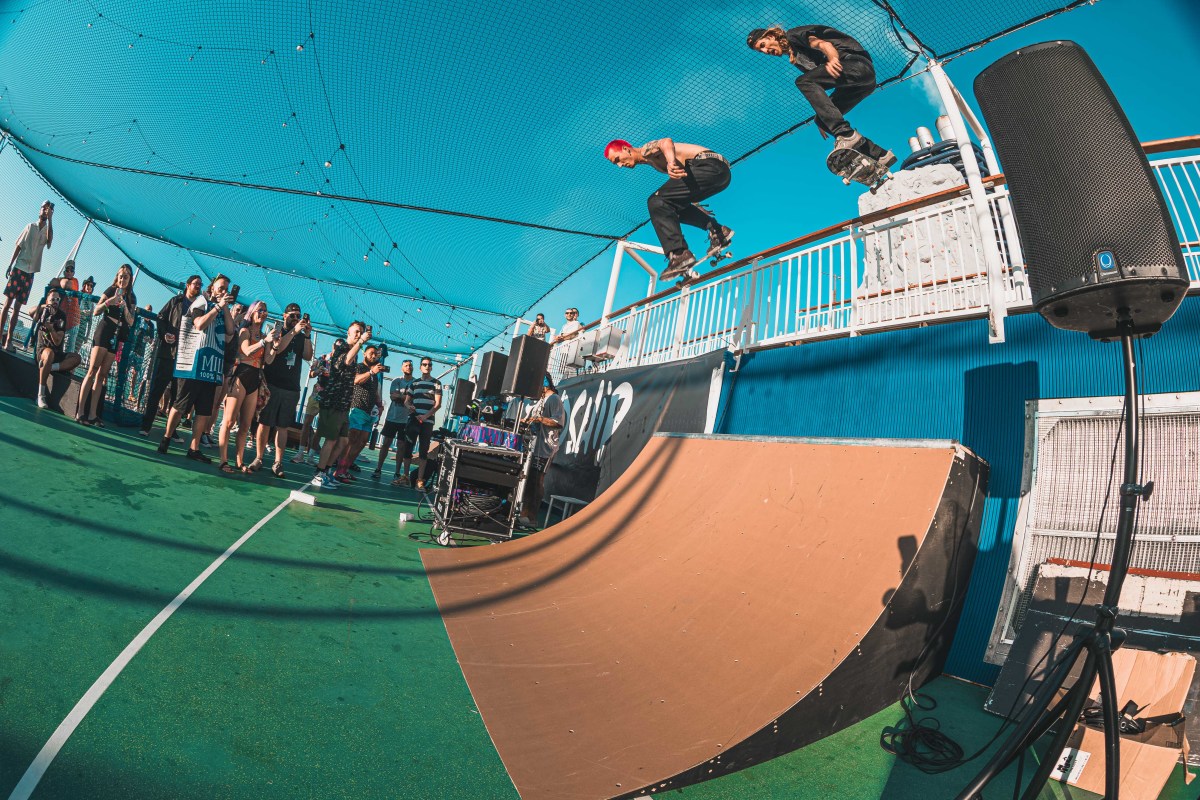 Jason Fenmore/Oh Dag Yo
Dita brings a whole crew with her as well. She brings the gorgeous Russian models, the little people, and then she has this guy named Lazel and he is unbelievable. He strips with a leg… They know how to do it, they do it really tastefully. It's not like a raunchy thing.
You'll go out to one of the venues at the party, and you'll see her and the crew and David and Erin, all just having fun. The people make the party. 
EDM.com: Besides the performances, Friendship also offers an abundance of thrilling activities to foster lasting connections amongst shipmates such as yoga, go-karting, speed dating and more. In your opinion is this festival something for solo travellers to enjoy too?
Gary Richards: Oh yeah! You're going to meet everybody. And everybody is really welcoming. That's the best part of the whole thing. Everybody that goes is so welcoming to everybody else. Anywhere in the world that I go, there is some type of Ship Fam somewhere.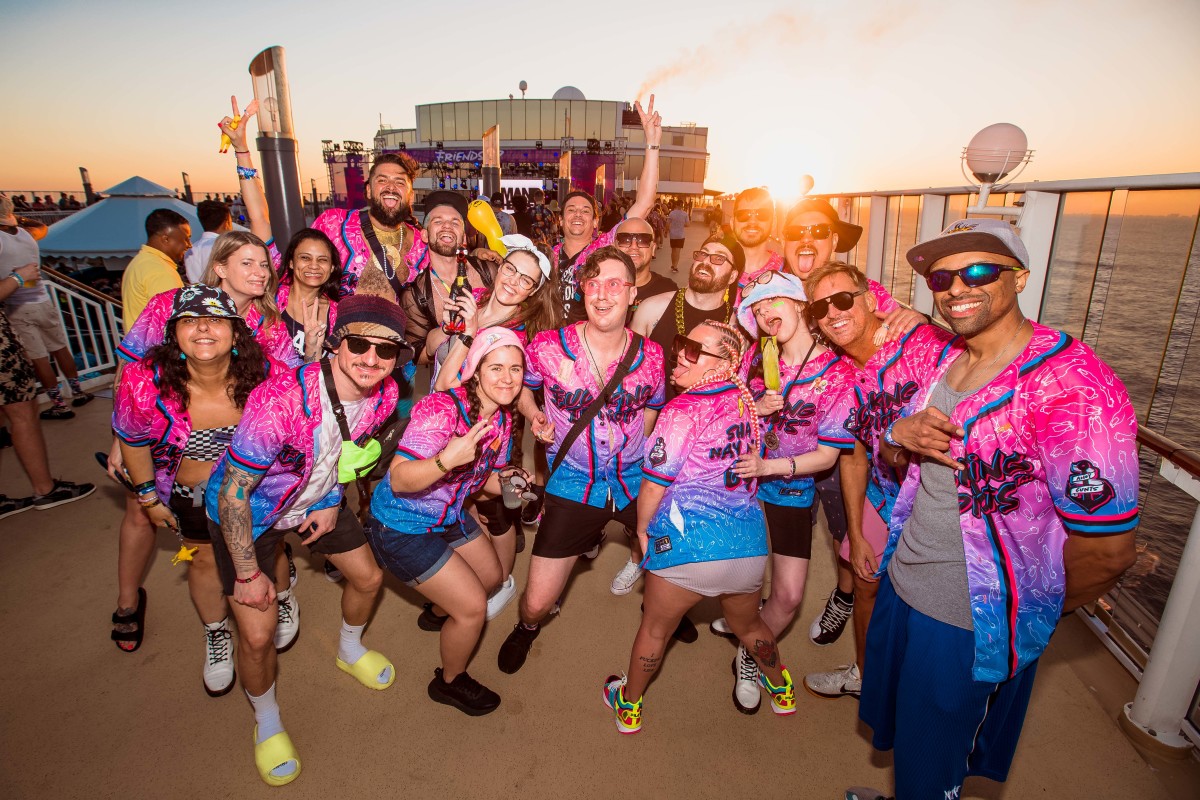 Jason Fenmore/Oh Dag Yo
It's this crazy community that we built. I never even thought of that part of it. I just thought, "I can put all this great music in one place and we have this great venue to party," but the people that went on the first one they just melded together and created this community that is way bigger than anything I could have ever envisioned coming from an event. And it's real.
These people really love each other. And if you're new, if you're a virgin, they'll jump you in the gang no problem. Everybody is happy to welcome new people.
At the time of writing, Friendship 2024 is over 90% sold-out. For more information and tickets, navigate to the official website here.
FOLLOW FRIENDSHIP:
Facebook: facebook.com/Friendshipamf
Twitter: twitter.com/Friendship
Instagram: instagram.com/thefriendshipofficial
Tagsterms:EDM FestivalsGary RichardsMusic FestivalsDestructoInterviewFriendship

By Carlie Belbin
Sign up for our