When Josh Pele travelled to Italy in 2019, he never thought he would discover a career as a traveling magician performing for some of the biggest DJs in the world.
While walking the streets of Milan, he came across a shop that had a deck of illustrated playing cards. So he started practicing a variety of tricks and performing for passing strangers on crowded streets.
Even though Pele had no previous magic experience and didn't speak a lick of Italian, he began to draw large crowds. The experience made him realize that he had unique talent that could offer adventure and opportunities to meet people from all walks of life.
After returning home to New Jersey, Pele set his sights beyond performing on public streets. He wanted to explore whether or not the universal language of magic could offer value to his favorite practitioners in the music scene.
Today, Pele's motivation, magic and tricks have paid off in spades. He has now performed for roughly 50 of the biggest names in EDM, including Martin Garrix, Kaskade, SVDDEN DEATH and Excision.
EDM.com recently sat down with Pele to learn more about his career, which has taken off on a magic carpet ride.
EDM.com: Can you tell us more about your magic journey and how you started performing for some of the biggest names in EDM?
Josh Pele: Upon my return to New Jersey, I focused my efforts on making videos on social media. I had watched examples of other magicians going viral on social media with their videos so I tried getting my magic out that way. I really tried to bang out the social media but it was too much. I had overworked myself and it burnt me out. I actually quit magic for a while. But then I got offered a show at a club and was encouraged to get into the nightlife scene.
I'm very passionate about house music, dub, techno, underground… I love it all. I've been around it since 7th grade. That's when I realized, "Wow, I want to try and do magic for my favorite DJs."
I was inspired to go to Electric Zoo Cancun in 2021 with my cards to perform for people in the crowd. The event organizers noticed me and asked me if I was a magician. They put me on the spot and said, "Do some tricks right now. If they are good, we'll see if we can do something." I performed my top two tricks and they loved it. I was invited backstage I got to do magic for Kaskade, Midnight Kids and SVDDEN Death. That made me realize that my magic works at festivals and I can add value to these type of events. I also really love these artists.
EDM.com: Why do you think your magic works at EDM events?
Josh Pele: I guess my experience performing for people in Italy without knowing the language has helped me develop tricks that can be performed on loud dance floors without needing to say a word.
I like tricks that use props that are personalized to the rave culture. For example, I don't pull quarters out of people's ears. Instead, I take vape pens out ravers' hands and pull them out of their ears. I like to make illusions with popular tattoos and of course, card tricks. If I know I have the chance to perform magic for a big DJ in advance, I try to customize my tricks to them. For example, I surprised Excision by placing an "X" in his closed fist.
EDM.com: What is your favorite part of rave culture?
Josh Pele: Rave culture is known for gifting and people have given me a lot of gifts in return. I keep getting invited to attend more events, be introduced to incredible headliners.
Scroll to ContinueRecommended Articles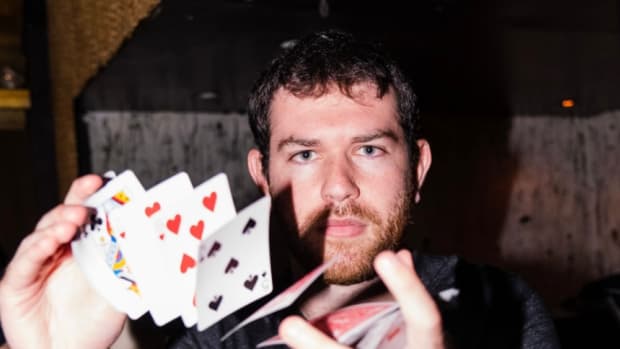 LifestyleHow One Man Began Performing Magic for the World's Biggest DJs: Meet Josh Pele, "The Ravegician"
"Be confident, express your style and good things will happen," says The Ravegician, who has blown the minds of Martin Garrix, Excision, SVDDEN DEATH and many more.
By Leah McClure and Jarett LopezJan 26, 2023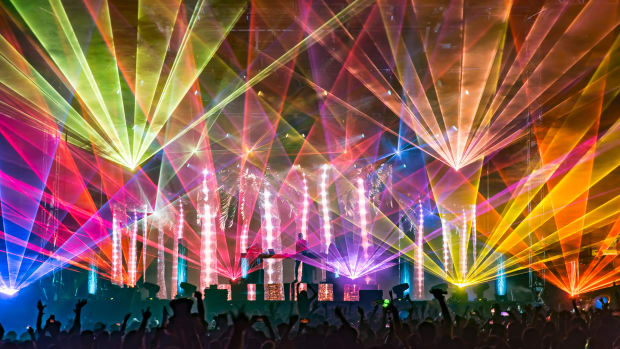 NEWSCloZee Reveals Two New Albums In the Works
The French electronic music star took to social media to share a few long-awaited updates on her projects, including her "Voyage to the Caverns" festival experience.
By Rachel FreemanJan 26, 2023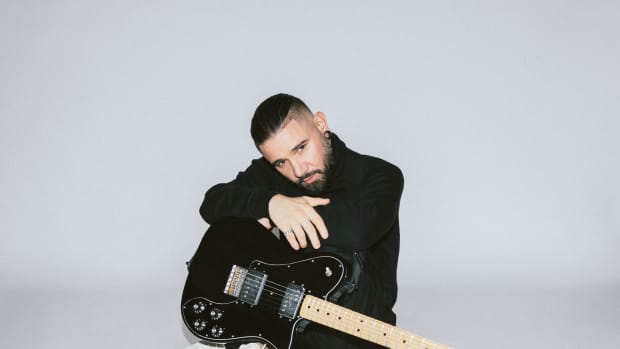 MUSIC RELEASESListen to Skrillex's Euphoric New Single With Yung Lean and Bladee, "Real Spring"
Hot off the heels of three January singles, Skrillex continues to explore and define the sounds of 2023.
By Rachel FreemanJan 26, 2023
EDM.com: We met you backstage at Electric Zoo Cancun and loved watching the magical entertainment you were providing to DJs. What happened after this trip?
Josh Pele: After Cancun, I returned home to New York and started going to the Brooklyn Mirage, which throws raves every night. I started getting to know the door staff, who encouraged me to hang around with them at the backstage entrance. They kept saying, "Good things might happen." Time and time again, good things happened.
EDM.com: Who are the top five favorite artists you have performed for at the Brooklyn Mirage?
Josh Pele: It's hard to choose, but I would say Martin Garrix, Excision, NGHTMRE, Kompany and Kill the Noise.
EDM.com: What parallels have you noticed between practicing magicians and practicing DJ's?
Josh Pele: I think to be successful in both crafts, it's important to not take traditional routes or be afraid about messing up a trick or performance.
I've definitely messed up tricks. But those times when I've messed up have helped me develop new tricks on the spot. Being a magician forces you to improvise and develop new tricks you never knew you had. I have so much appreciation for the improvisational skills of DJs that tour and perform on the largest stages in the world.
EDM.com: What advice would you give to anyone aspiring to perform in the entertainment industry?
Josh Pele: The important thing is to remind yourself that you don't need to feel you've reached a certain level to be ready to perform. Just go out, do it, be confident, express your style and good things will happen.
I think those that capitalize on moments are those that can be the most successful. Practice is important but if you practice your whole life and devote yourself to traditional years of training, you can miss out on opportunities.
EDM.com: What have you done to build your reputation as The Ravegician?
Josh Pele: The more content I put out there, the more intrigue has developed. I always try to film my tricks and capture reactions. It's helpful living close to New York because it's easy to connect with a lot of touring DJs that introduce me to other DJs
EDM.com: A few months ago, we invited you to partner with us as a content creator. We love watching your videos entertaining DJs behind-the-scenes and our audience loves them too.
Josh Pele: It's been very cool to go from a man with an idea of doing a new type of entertainment to meeting EDM.com, who is known for their creativity and the variety of content they add to music festivals. I've followed EDM.com for a long time and it's been a fun development to now be working together and collaborating. I'm excited for all that's to come.
Follow The Ravegician:
Website: joshpelemagic.com
YouTube: youtube.com/joshpelemagic
Twitter: twitter.com/joshpelemagic
Instagram: instagram.com/joshpelemagic
Tagsterms:Josh PeleMagic

By Leah McClure

By Jarett Lopez
It was love at first drop, and I've been raving ever since. Here to give back to the culture through photos and articles.
Sign up for our