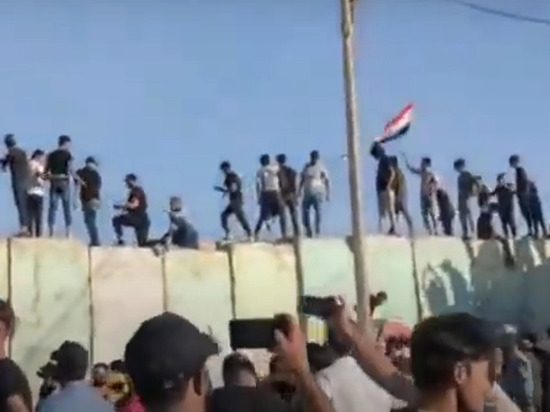 assault on the Green Zone in Baghdad, video frame. source: social networks
The European External Action Service (EBU) expressed the EU's concern about the ongoing protests in Baghdad and their potential escalation.
"We call on all parties to exercise restraint to prevent further violence," the communiqué says Representative of the EBU, which Brussels published on Sunday.
The document states that "political forces should resolve issues through a constructive political dialogue within the constitutional framework."
The EBU also notes that "although the right to protest peacefully is essential to a democracy, laws and state institutions must be respected."
The Associated Press reported earlier that supporters of the influential Shiite imam Muqtada al-Sadr, who oppose the appointment of a new Iraqi prime minister, on Saturday for the second time in a week, they broke into the parliament building in the Green Zone of Baghdad, where state institutions and foreign embassies are located.
Protests in the table Iraq's ice began last Wednesday. Hundreds of protesters, despite the calls of Prime Minister Mustafa al-Kazemi to immediately disperse, broke into the parliament building.
These are the largest protests in Iraq since last October, when elections were held in the country. Now they are connected with the nomination of the candidacy of Mohammed al-Sudani for the post of prime minister of the country from the Coordinating Structure bloc, led by Shiite parties supported by Iran.
Источник www.mk.ru