Feature Protests in Kazakhstan amid rising gas prices
The first planes with paratroopers who participated in the CSTO peacekeeping mission in Kazakhstan arrived in Russia.
According to the press service of the Russian Ministry of Defense, on Saturday at the airfield "Severny" ; Eight Il-76 planes have landed in Ivanovo. After the landing of the last aircraft, solemn events are expected on the airfield.
In addition, two more aircraft of the military transport aviation of the Russian Aerospace Forces An-124 "Ruslan" arrived at the Chkalovsky airfield in outskirts of Moscow. The military unload weapons, military equipment and property. After the solemn rally, the personnel will go to the point of permanent deployment.
Recall that peacekeepers from the Russian Federation, Belarus, Armenia, Tajikistan and Kyrgyzstan arrived in Kazakhstan last week to help stabilize the situation amid protests. On January 13, their withdrawal began. It will last until January 19.
Withdrawal of the CSTO peacekeeping forces from Kazakhstan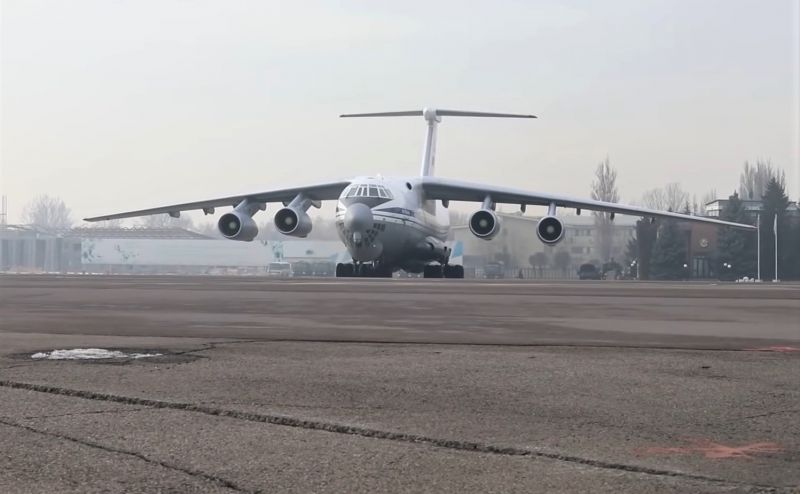 Il-76 aircraft of the military transport aviation of the Russian Ministry of Defense for the export of military equipment and personnel of the Russian contingent of the CSTO peacekeeping forces from Kazakhstan to the point of permanent deployment, at the airport "Almaty" © Ministry of Defense of the Russian Federation
Loading military equipment from the Russian contingent of the CSTO peacekeeping forces onto the Il-76MD aircraft of the military transport aviation of the Russian Ministry of Defense at an airfield in Kazakhstan © Ministry of Defense of the Russian Federation
Loading the personnel of the Russian contingent of the CSTO peacekeeping forces into the Il-76 aircraft of the military transport aviation of the Russian Ministry of Defense at the Almaty airfield in Kazakhstan for departure to the point of permanent deployment © Ministry of Defense of the Russian Federation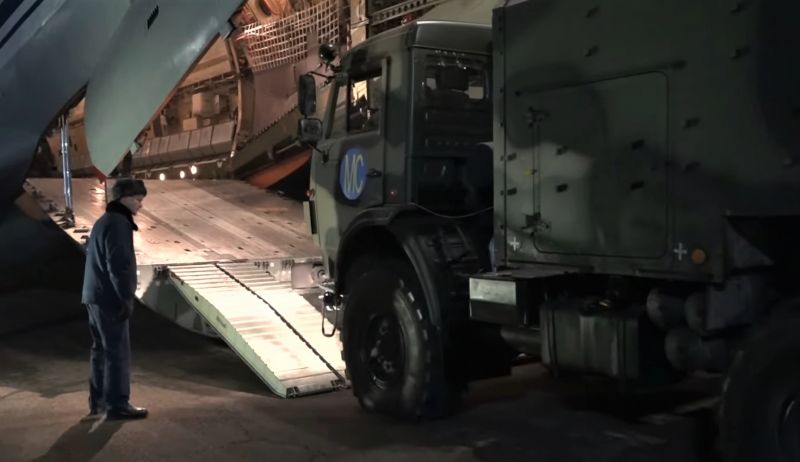 Loading of military equipment from the Russian contingent of the CSTO peacekeeping forces onto the Il-76MD aircraft of the military transport aviation of the Russian Ministry of Defense at an airfield in Kazakhstan © Ministry of Defense of the Russian Federation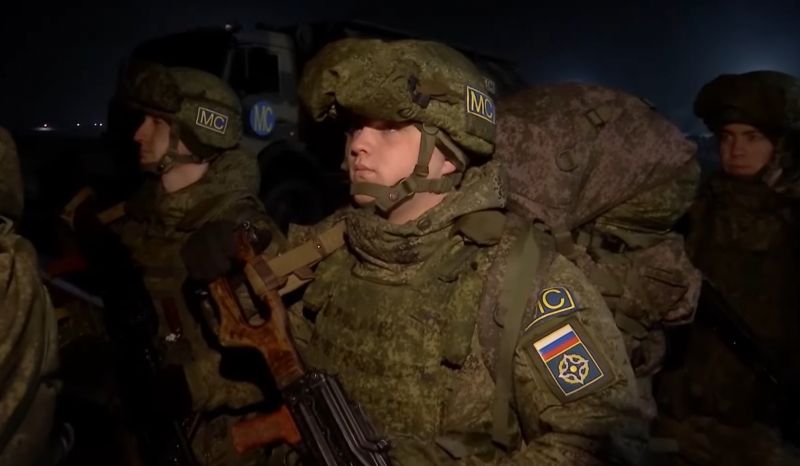 Loading the personnel of the Russian contingent of the CSTO peacekeeping forces into the Il-76 aircraft of the military transport aviation of the Russian Ministry of Defense at the Almaty airfield in Kazakhstan for departure to the point of permanent deployment © Ministry of Defense of the Russian Federation
The Il-76 aircraft of the military transport aviation of the Russian Ministry of Defense for the export of military equipment and personnel of the Russian contingent of the CSTO peacekeeping forces from Kazakhstan to the point of permanent deployment, at the airport "Almaty" © Ministry of Defense of the Russian Federation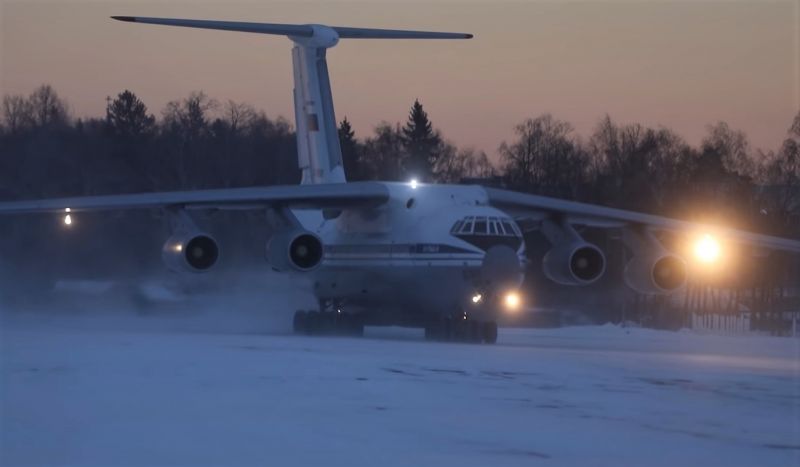 Il-76 military transport plane landing at the airport in Ivanovo © Russian Ministry of Defense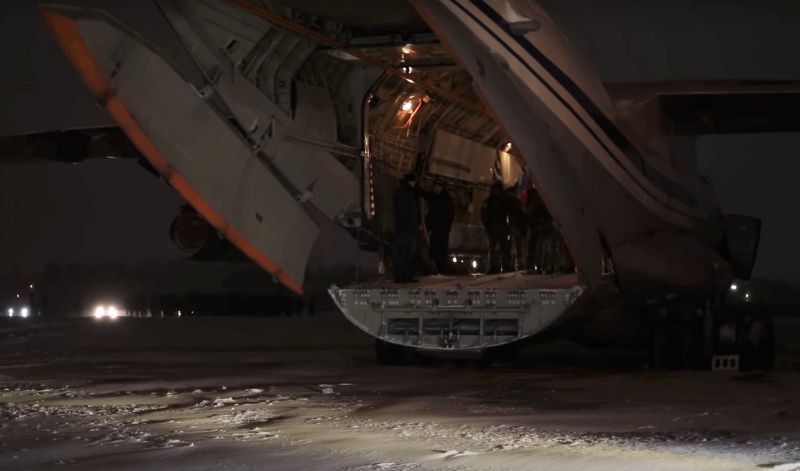 Il-76 aircraft with Russian peacekeepers arriving at the Ivanovo-Severny military airfield © Ministry of Defense of the Russian Federation
Russian peacekeepers at the Il-76 aircraft during a solemn meeting after their arrival at the Ivanovo-Severny military airfield © Russian Ministry of Defense
Russian peacekeepers at the Il-76 plane during a solemn meeting after their arrival at the Ivanovo-Severny military airfield © Russian Ministry of Defense
Unloading military equipment from the Russian contingent of the CSTO peacekeeping forces from the military transport aircraft of the Russian Ministry of Defense at the airport in Ivanovo © Ministry of Defense of the Russian Federation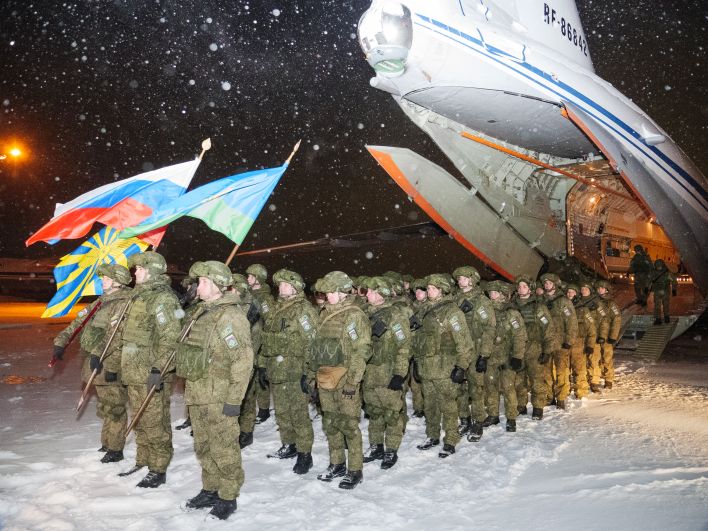 Russian peacekeepers during a solemn meeting after their arrival at the Ivanovo-Severny military airfield © RIA Novosti/Dmitry Ryzhakov
Withdrawal of the CSTO peacekeeping forces from Kazakhstan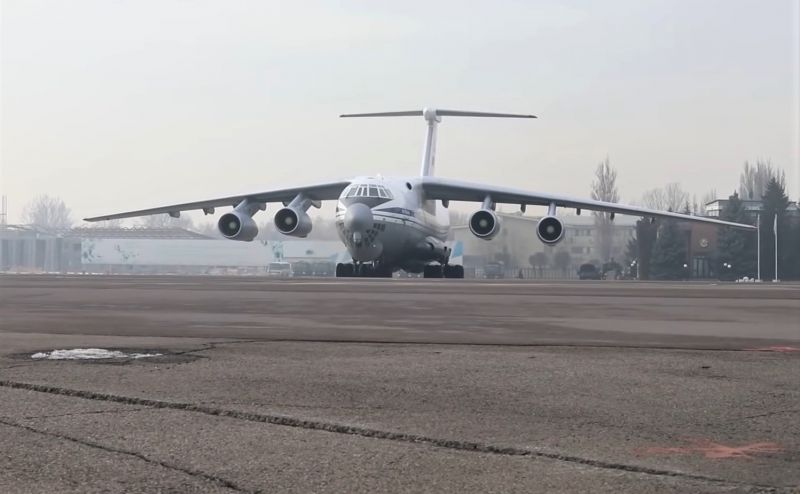 The Il-76 aircraft of the military transport aviation of the Russian Ministry of Defense for the export of military equipment and personnel of the Russian contingent of the CSTO peacekeeping forces from Kazakhstan to the point of permanent deployment, at the Almaty airport © Ministry of Defense of the Russian Federation
Loading of military equipment from the Russian contingent of the CSTO peacekeeping forces onto the Il-76MD aircraft of the military transport aviation of the Russian Ministry of Defense at an airfield in Kazakhstan © Ministry of Defense of the Russian Federation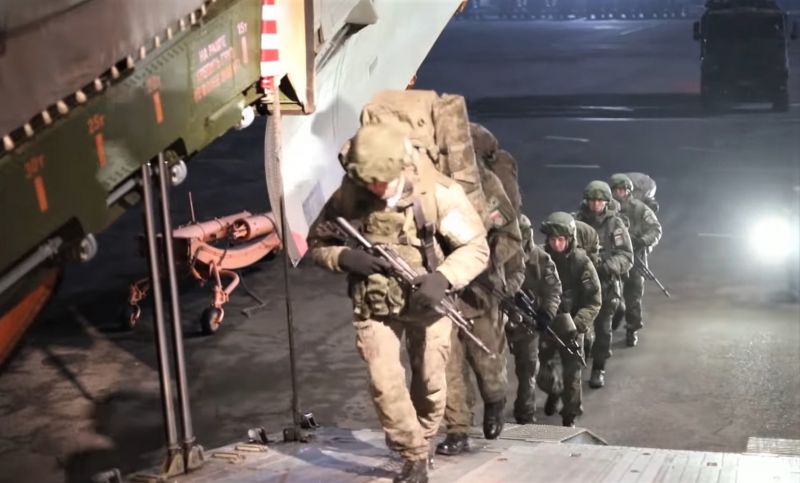 Loading the personnel of the Russian contingent of the CSTO peacekeeping forces onto the Il-76 aircraft of the military transport aviation of the Russian Ministry of Defense at the Almaty airfield in Kazakhstan for departure to the point of permanent deployment © Ministry of Defense of the Russian Federation
Loading of military equipment from the Russian contingent of the CSTO peacekeeping forces onto the Il-76MD aircraft of the military transport aviation of the Russian Ministry of Defense at an airfield in Kazakhstan © Ministry of Defense of the Russian Federation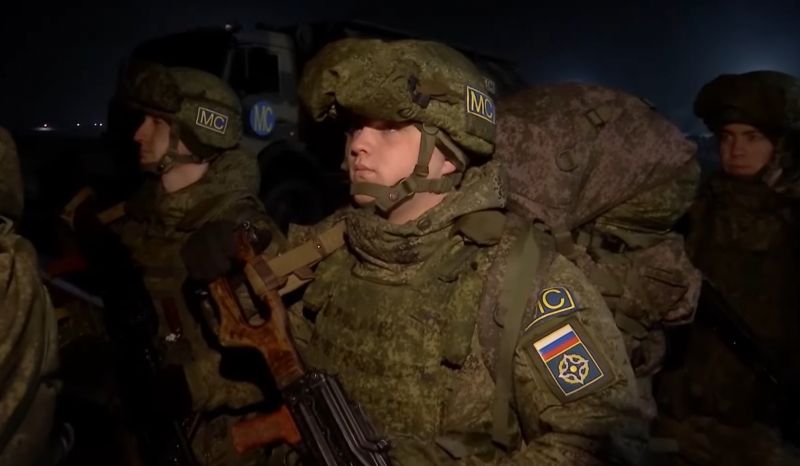 Loading the personnel of the Russian contingent of the CSTO peacekeeping forces into the Il-76 aircraft of the military transport aviation of the Russian Ministry of Defense at the Almaty airfield in Kazakhstan for departure to the point of permanent deployment © Ministry of Defense of the Russian Federation
Il-76 aircraft of the military transport aviation of the Russian Ministry of Defense for the export of military equipment and personnel of the Russian contingent of the CSTO peacekeeping forces from Kazakhstan to the permanent deployment point, at the airport "Almaty" © Ministry of Defense of the Russian Federation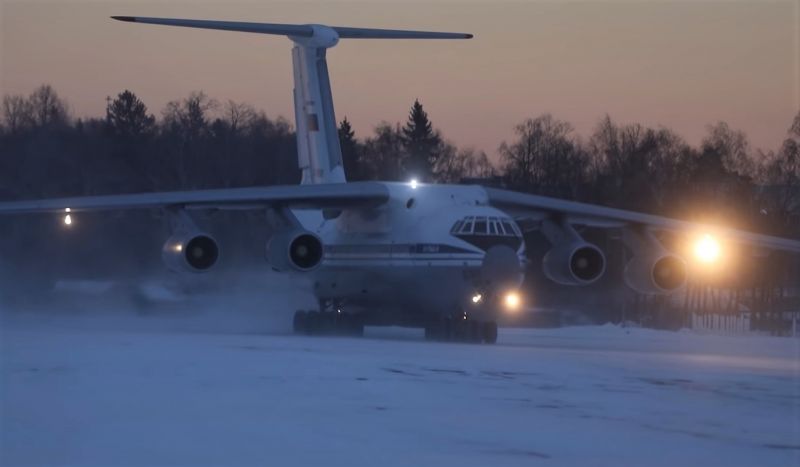 An Il-76 military transport aircraft landing at the airport in Ivanovo © Russian Defense Ministry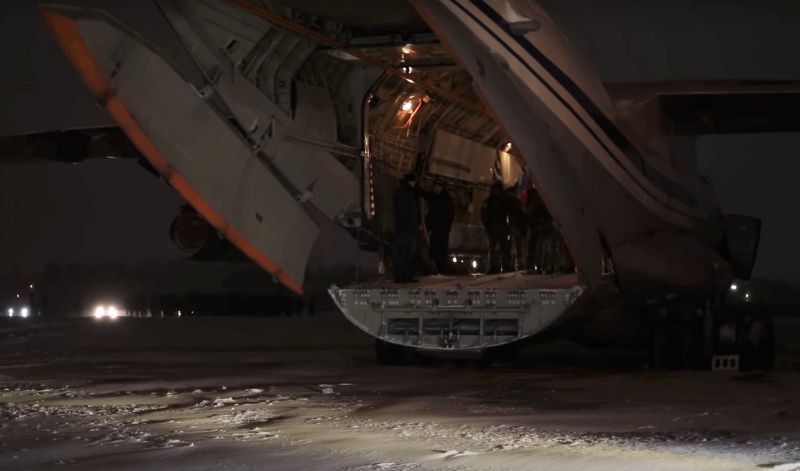 Il-76 aircraft with Russian peacekeepers arriving at the Ivanovo-Severny military airfield © Russian Defense Ministry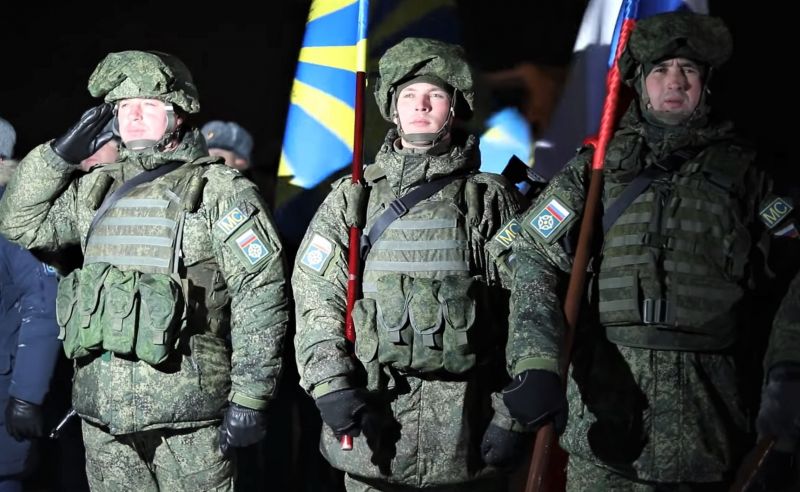 Russian peacekeepers at the Il-76 aircraft during a solemn meeting after their arrival at the Ivanovo-Severny military airfield .jpg" height="531″ width="794″ style="display: block;" />
Russian peacekeepers at the Il-76 aircraft during a solemn meeting after their arrival at the Ivanovo-Severny military airfield © Russian Defense Ministry
Unloading military equipment from the Russian contingent of the CSTO peacekeeping forces from the military transport aircraft of the Russian Ministry of Defense at the airport in Ivanovo © Ministry of Defense of the Russian Federation
Russian peacekeepers during a solemn meeting after their arrival at the military airfield Ivanovo-Severny © RIA Novosti/Dmitry Ryzhakov
Источник aif.ru