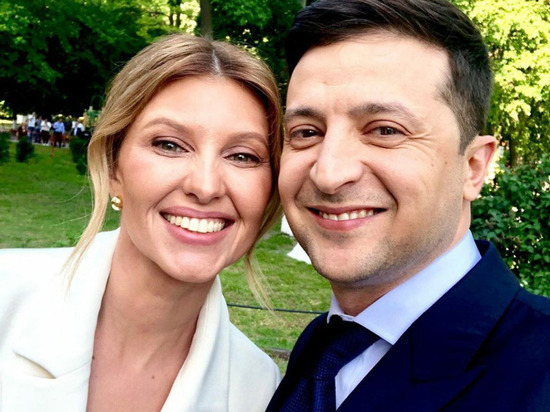 Archival photo taken shortly after Zelensky took office
The British edition of The Guardian chose the spouse of the President of Ukraine as the heroine of its Saturday issue Elena Zelenskaya. The photo of the first lady was placed on the cover of the issue, inside readers were presented with an interview with the president's wife and fresh photos.
It is alleged that the pictures were taken in Kyiv, in the office of the President of Ukraine, moreover, in secrecy and maximum security. The photo really shows elements of the furnishings of the premises, similar to the interior of the office of Vladimir Zelensky. It can be seen that some "decorations" were added for the photo shoot. So, in one of the pictures, Zelenskaya poses on a staircase, on both sides of which there are fortifications made of bags.
Photo: Social networks
In another photo, Zelenskaya is standing against the background of window curtains, a man in camouflage with a machine gun was partially captured in the frame.
Another shot, as if by chance, captured Vladimir and Elena Zelensky together: they are talking, the wife is holding her husband by the hand , and he takes a step, about to leave the frame.
Photo: Social networks
Presumably, this photo was supposed to confirm that the first lady of Ukraine remains in the capital with her husband: Zelensky declares every day that he does not leave the city, and Every evening he records video messages from his office or in other recognizable locations.
Источник www.mk.ru